SkyAware Anywhere
All your ADS-B receivers in one view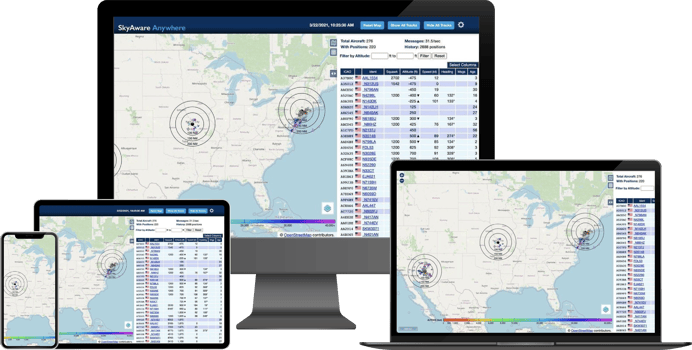 One Unified View. From Anywhere.
With SkyAware Anywhere you get a raw view of everything your ADS-B receivers are seeing, from anywhere you have an internet connection! SkyAware Anywhere takes your ADS-B receivers (including 1090 and 978 receivers) and combines them into a single map, allowing you to securely view the skies you're monitoring.
SkyAware Anywhere Features:
See real-time nearby flights from your receiver displayed on a personal radar-like interface

SkyAware Anywhere does not require you to expose your receivers directly to the internet

Compatible with all FlightAware devices including PiAware and FlightFeeders

There is no additional hardware, software, or update required for those with existing FlightAware ADS-B receivers

SkyAware Anywhere is free for all FlightAware ADS-B hosts
If you're already an ADS-B host, try out SkyAware Anywhere by clicking below (make sure you're logged in)
Join the ADS-B Community
FlightAware operates a worldwide network of ADS-B and Mode S receivers that track ADS-B or Mode S equipped aircraft flying around the globe. The fun part about these receivers is that you can make them yourself. Get a Raspberry Pi, pop our software on it, hook it up to the internet, and start sharing. Costs run less than $100 for the basic setup. Here are the instructions. For folks who live in areas where we need more coverage and can pass an application process, we'll send you a pre-made one in a box – for free.
You'll become part of a network of ADS-B hobbyists across the globe and start seeing the skies in a totally different way.